Yesterday we had a lazy day at home and ended up having a bit of a boys versus girls competition.
We split up and saw who could make the best thing out of Lego and Ello.
The boys used the Lego and we girls used the Ello which we only got given the other day from my Niece. It's really fun to play with...so many little bits and pieces.
We made a house from Ello with a few people and some pets.
The boys made a castle out of Lego with some very well known guards.
Who would have thought Harry Potter would team up with Stormtroopers!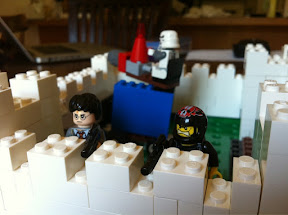 How was your Sunday?
xx
- Posted from my iPhone using BlogPress